Global Mine Problem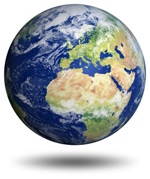 A world map showing the international land mine problem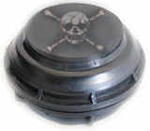 Death lurks beneath the ground:
Even the step of a small child will unconditionally trigger this anti-personnel mine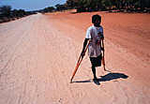 This young boy not only lost his leg through an exploding mine, but all hopes of living a normal life. He will depend on the mercy of his fellow men for the rest of his life.
Our planet:
From a distance it looks peaceful and fascinating. Seen from up close it shows its flip side.
Since the dawn of time wars have been erupting, bringing agony and misery to the innocent and now leaving a devilish seed behind - millions of mines and left-over explosives threaten the lives of people and animals in more than 60 countries on this planet. Wars have transformed thousands of square kilometers into death zones that nobody dares to enter. The relics of often long gone wars and armed conflicts kill, maim and mutilate the innocent on a daily basis. They don't differentiate between the elderly, men, women, children or animals. Different from all other weapons thought up by mankind they are inadvertently triggered by the victims themselves.
To help put an end to this misery, the men and women of 'People against Mines (MgM) work daily in those spoiled areas, clearing mines and left-over ammunition, creating a basis for a peaceful and humanitarian future for a population traumatized by war, pain and the fear of mines.

Current figures on the landmine topic for 2009
The following figures are officially documented. The estimated number of unreported cases is probably much higher.
In 2009, 3956 people became victims of landmines or other exploded remains of war.  At least 1041 died and 2855 partly sustained severe injuries. No data is available on the condition of the remaining 60 people. Most of the persons concerned came from Afganistan, Columbia and Pakistan.
70 % of landmine victims are civilians. Nearly 40% of all victims are children who mistake landmines and ammunition left-overs for toys. Almost 90 % of all victims are male.
At least 66 states have a landmine problem.
The major sponsors for demining programs are the USA, the EU, Japan, Norway and Germany.
Almost 50 % of all funds go to Afghanistan, Iraq, Cambodia, Sudan und Sri Lanka.
---
Overview "The global mine problem"
You would like to support our humanitarian work?