MgM - Menschen gegen Minen
People against Landmines

Result of People against Landmines (MgM) in Angola (1996 to 2011)
15 years of MgM work
For 15 years we have tirelessly been operational in southern Africa conducting humanitarian demining work, to grant people living in conflict areas a safer life and a human future.
Read more: "15 years of MgM work"
---

KAZA-Park
One of the largest nature conservation areas is developing in Africa.
We have already repeatedly informed about our efforts to demine the heavily mined, huge area of Kuando Kubango in Angola's southeast. In October 2010 we finally received the necessary funding from the EU, probably also motivated by the recent planning of the KAZA Park, the largest nature conservation park worldwide, whose development is being followed with great social and political interest.
Read more: "Kuando Kubango - KAZA"
---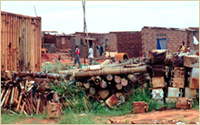 Report: 25 years of Civil War in Angola
25 years of civil war leave behind a shattered nation
Until today, nearly 10 years after the end of the war, Angola is still suffering the consequences of the dreadful civil war. Many traumatised people, including former child warriors and rape victims have to find a way into modern life. It is estimated that some hundred thousand people have to life with mutilations from landmines – nobody knows the exact number.