Namibia Demining project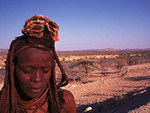 The Himba and the San, two of the aboriginal people on our planet are also threatened by the inherent mine danger.
Background and problem
For the most part, the armed conflict for the independence of Namibia happened on Angolan soil, but the Namibian liberation army (PLAN) also staged their guerrilla war in the northern part of Namibia itself. The armed forces of the South African apartheid system (SADF and SWATF) systematically planted a huge number of mines on an area 350 km large (mostly next to the Angolan border) to protect their military bases from attack. SADF and SWATF also mined 409 power pylons in a line which run South from the town of Ruacana along the Angolan border to the Western edge of the Etosha National Park.
Approximately 50,000 mines are estimated to be in the Northern part of the land. More than half of the nation's population live in this part of Namibia.
Other abandoned war material poses a danger that should not be underestimated, especially in the abandoned military base near Grootfontein where hundreds of tons of explosives are rotting and in need of a solution.
Overview Namibia operation