Interview with Haller Da Silva
February 2015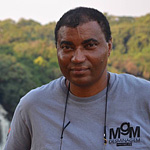 Haller Da Silva
Mr Da Silva, you are working for MgM (People against land mines) in Angola. Since when are you working for MgM?
Haller: I started working for MgM in 1999.
How did you get to know about MgM when you started to work for them in 1999?
Haller: In that time, I knew that only a few demining NGOs in Angola were working during the war times. The German MgM was one of them and I knew they were doing a good humanitarian job, seen that Angolan government themselves had no intention for demining.
What position do you have and what kind of a job is that?
Haller: I am working as a national manager as from 2003, but I started to work as an accountant.
Mainly I am doing administrative work. My office is at Luanda because all Angolan high level authorities work here and I represent MgM to them.
What exactly are your duties and your responsibilities?
Haller: Externally, I work with all Angolan authorities, donors, partners and others. Internally (with MgM) I have links with accountancy, demining operations and logistics. At the same time, I follow and control some of MgM accountancy issues like salaries, taxes and demining licenses.
How is the cooperation with the Angolan authorities?
Haller: In general I cannot complain, the cooperation with the Angolan authorities is good. But it still needs some improvement.
What is your motivation behind the work?
Haller: We are still doing humanitarian work. The long war destroyed the whole country, yet the Angolan government is still focusing on the main cities. Local communes and municipalities are still waiting for their time of help. MgM is working exactly there with poor people until the government will increase support here. MgM is opening roads to link small villages and to allow connections between them.