History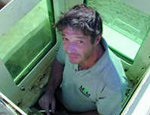 Hendrik Ehlers in the mine proof lookout tower of a special MgM vehicle.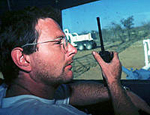 Hans-Georg Kruessen in the armored cabin of the MgM Grader.
MgM, the foundation of 'People against Landmines' was founded on January 16th 1996 in Germany.
The goal was to establish a humanitarian mine clearance organization which would offer its services to non-governmental organizations (NGOs) dedicated to re-establishing the infrastructure of dangerous regions in post war scenarios.
Hendrik Ehlers and Hans Georg Kruessen founded MgM together with others in 1996. Today they are Managing Directors and active Managers of all demining operations at the same time.
Hendrik Ehlers and Hans-Georg Kruessen have been working since 1992 in the field of humanitarian mine clearance and the destruction of dangerous ammunition in Southern Africa. They posses a wealth of practical experience through operations management, mined area survey, demining and the destruction of explosives (EOD).
More about MgM: