Communication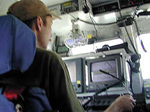 The solid radio contact with mission control is prerequisite to all MgM operations.
Not without reason …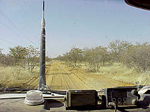 On the tracks of post war Africa, radios are necessary for survival and a satellite supported orientation and navigation system is in every MgM vehicle.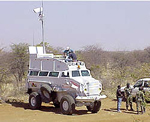 This armoured vehicle - from the Comms-Wolf - is the communications and command centre on a working site.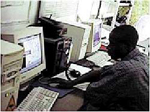 At MgM headquarters all vehicle movements are displayed and monitored on the computer screen.
Survival technology
All MgM vehicles are equipped with the most modern radio and navigation devices. Information about the deminer's movements and the individuals present are of great interest not only for the army, police and guerrillas but also to marauding ex-troops and bandits. Open communications including name, place and time details can be life threatening, so MgM works with changing code names and on different radio channels. This demands, of course, a very strict radio discipline and suitable equipment.
Special radios enable MgM to telephone from device to device (virtually interception free) over great distances. A passive GPS (Global Positioning System) tracks the position of the vehicle on its radio console. A computer connected to MgM's control centre in the capital city of Luanda calls on the information every minute and displays the position of the vehicle on a digital map. This Internav Tracking System enables the coordination, monitoring and documentation of all our vehicle movements. With one glance the controller can determine the closest vehicle that could, for example, assist a transport stuck in the mud. If radio communications are lost and the satellite telephones fail, all operations will be stopped immediately and all teams will be on the highest alert.
Should an accident occur with personal injury during demining, the satellite supported positioning enables the quick and exact deployment of helicopters under any conditions. Of course, this system also serves to coordinate First Aid missions for the civilian population.
In any case: Safety first.
Overview mine clearance: