Manual Demining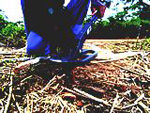 When metal is found the detector makes an audible signal.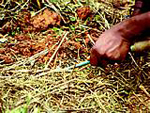 This mine is being unearthed carefully - and always from its side - with a demining probe.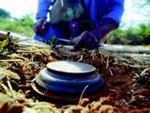 When the mine is exposed, the explosives specialist decides whether the mine will be disarmed and destroyed later, or detonated where it is. Usually, an explosive charge is placed beside the mine and it is detonated from a safe distance.
Manual Demining
An experienced MgM specialist can always manage the risks - with a good basic education and continuous retraining.
Even today there are no devices and no machinery that can accurately duplicate the work of efficient, manual mine clearance.
From behind a safe-line the deminer investigates every square centimetre in front of him. Every time the metal detector signals, the deminer must investigate the cause. It could be a bottle cap, an ammunition shell, a lump of rust - or it could be a mine. It is essential that he concentrate fully – and there are no short cuts. He knows that the first person to step on the area he declares safe will be him.
Maintaining high concentration is essential. That is why MgM runs two-man teams that change roles every 30 minutes. From a minimum distance of 25 meters one team member watches and corrects the actions of his partner.
Even when machines are used during a mine clearance operation, their use will be only one of several passes over the ground. The mechanically cleared area will be checked again by manual deminers and explosive detecting dogs. It is part of the documented safety standards of MgM to verify every clearance procedure with as many other procedures as we can. Only after as much inbuilt quality control as possible can MgM declare an area mine-free. This is because we need to have sufficient confidence to let children play on every area we clear
---
Overview mine clearance:
You would like to support our humanitarian work?