Mozambique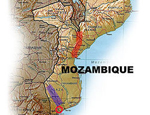 MgM helped to demine the Civil War country of Mozambique from 2001 to 2003
Overview Mozambique archive
MgM Operation Limpopo
History of Mozambique
One of the most beautiful and fertile countries in the world, Mozambique's post-independence period (1975 – 1992) has been blighted by a vicious guerilla war between the FRELIMO and RENAMO movements. As elsewhere in Africa, cheap landmines formed part of the arsenal, and even though peace finally dawned in 1992, the landmines remain.
Since then, the country has become a beacon of hope in Africa, with pragmatic policies and reconstruction paving the way to progress. But this flame of hope was nearly doused in 2000, when devastating floods wrecked large parts of the country and displaced three-quarters of a million people.
Great efforts by the National Mine Clearing Institute) in combating the landmine scourge were laid to waste as mines were buried among the wreckage. But under President Joaquim Chissano, the country is slowly being rebuilt. MgM, which is clearing the economically vital Limpopo railway corridor, is assisting Mozambique in finding its feet again and become the vital, vibrant country it deserves to be.