Interview with Ken O'Connell
June 2011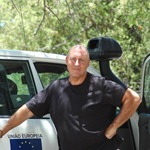 Ken O'Connell
I: Mr O'Connell you are the project leader and demining coordinator of MgM in Angola. What kind of a job is that?
Ken: It is of course a very exciting job; every day is challenging and bears a certain occupational hazard, even though, apart from one incident, nothing has ever happened so far. Nonetheless one has to be aware that a small mistake during the demining work can cost one's own live and that of fellow workers.
We often work for month in the middle of the bush, far away from urban civilisation, thus one has to be abstentious and persistent. Our present base Jamba, for example, is situated in the Angolan south province Kuando Kubango. From Jamba to the next super market you have to easily travel 350 km.
I: What exactly are your duties and your responsibilities?
Ken: I am in charge of the coordination of the demining. That means that if funds for a certain project become available, I firstly manage the establishment of the base. Equipment, vehicles, etc. have to be relocated, which is a huge logistical challenge in Angola. At the same time the actual demining operation is planned, which means, it is exactly established, at which time which routes, or better said mine fields are to be cleared. Of course the situation is roughly known even before the application for the funding, but the final project coordination is always different – spontaneity is also part of my job as well as the ability to react fast to unpredicted problems.
One of my central duties is then of course the coordination of the demining work itself, as well as the documentation of demining successes – that is the most essential part of our work - a mine that has not been documented, has not been cleared.
I: Can you guarantee that areas cleared by you are landmine free?
Ken: We forward our final report to the National Demining Committee of Angola (CNIDAH), who then sends a team to us to control parts of our work. The CNIDAH then issues a certificate and confirms the demining of the area or road. But a 100% surety does not exist. Even in Europe unexploded bombs and old ammunition from both World Wars are still found nearly on a daily basis. Maybe Angola will never be completely mine free, but we will do our utmost to at least try it.