Demining Angola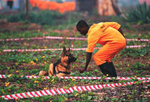 In Ambriz, MgM built a training camp for explosive detection dogs (EDDs) and their handlers.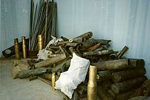 They are much needed there, where tons of mines, unexploded ammunition and dangerous explosives endanger the population.
Report

The MgM mine clearance project Ambriz
Background
Ambriz is a deserted naval town 180 kilometres north of Luanda, the capital of Angola. Because the town included a port that was of strategic importance, the entire peninsula was closed off with a mine belt. The mines deployed there in large quantities are tank mines (AT), bounding fragmentation mines (AG), anti-personnel blast mines (AP) as well as an entire parade of other cruel explosive traps. Those deploying the mines used their fiendish imagination to the full in this area. It should not be surprising that the displaced civilian population were afraid to return home.
The Status Quo
The MgM projects in Ambriz began as a stop gap measure but the long-term importance of our work has become clearer as every day passes.
Between mid 1999 and the end of 2000 our teams in Ambriz and neighboring Libongos have cleared more than 150 kilometres of roads and over 40 hectares of farm land. As a result of having safe access, the previously deserted town is turning into a booming market and trade metropolis.
MgM was founded to serve these people.
Overview: Angola-Archive