Status of Charity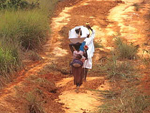 After years of misery in the refugee camps these people return home on mine free roads and streets to a life of freedom and grace.
Germany
The organisation People Against Landmines (MgM) has been awarded, because of "promotion of catastrophe protection and prevention of accident, rescue from live threatening danger, support of refugees, education and training" according to the last statement of the financial office of Krefeld from 18.01.2001 (tax number: 117/5869/1010) a non profit status and has been exempt of tax according to § 5 Abs. 1 No. 9 of the Koerperschaftssteuergesetz.
(quoted form the exemption notice of the financial office of Düsseldorf, Germany)
---
More about MgM:
You would like to support our humanitarian work?