Interviews
Interviews with MgM workers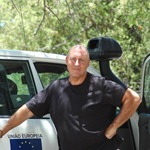 Ken O'Connell
Interview with director of operations Ken O'Connell (June 2011):
I: Mr O'Connell you are the project leader and demining coordinator of MgM in Angola. What kind of a job is that?
Ken: It is of course a very exciting job; every day is challenging and bears a certain occupational hazard, even though, apart from one incident, nothing has ever happened so far. Nonetheless one has to be aware that a small mistake during the demining work can cost one's own live and that of fellow workers.
---
More about MgM:
You would like to support our humanitarian work?