15 years of MgM work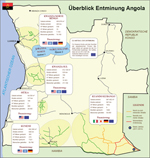 Since 1996 MgM is working in Angola to help the local population to get a chance to live a normal life. Here you will see a map of Angola with the u-to-date (June 2011) demining result.
Result of People against Landmines (MgM) in Angola (1996 to 2011)
For 15 years we have tirelessly been operational in southern Africa conducting humanitarian demining work, to grant people living in conflict areas a safer life and a human future.
Through your private support of our development association in Germany as well as contributions from the UN and EU and through government project funds from the USA, Germany, Italy and Japan we were able to fight the anguish and horror spread by the war and landmines and to help thousands of people.
We mainly concentrated on rural and areas, which were difficult to access, in order to help displaced persons to return to their home villages.
The result:
In 15 years of demining activities in Angola we have found, disarmed, destroyed and disposed a total of 3052 anti-personnel mines and 324 anti-tank mines. Furthermore 26661 pieces of ammunition and duds, like grenades, mortars and bombs were removed - a huge amount.
During this time we have demined and made accessible approximately 3000 km of road and have cleared an area of 3,630281m². We were able to help 400,000 Angolans to return to a normal life.
We are proud of these achievements and glad that you, dear friends and sponsors supported us and of course we hope that you will continue doing so, because….
The future:
... we still have a lot of intentions
The landmine problem not only in Angola, but also in many other states is far from being solved. In the contrary! At the moment the problems are multiplying again and whilst in many parts of the world landmines are being disarmed and destroyed with the help of private funds and tax money, they are successfully produced and distributed at other places – again the defence industry profits and again the civilians suffer for a long time.
Additionally the landmine problem presently seems to disappear from public and political interest. Unbelievable, but true – it is getting increasingly difficult for demining organisations to get access to public funding and that means that we are relying more and more on private sponsors. Having said this – thank you very much that you will stay loyal to MgM in future!
---
More about MgM:
You would like to support our humanitarian work?